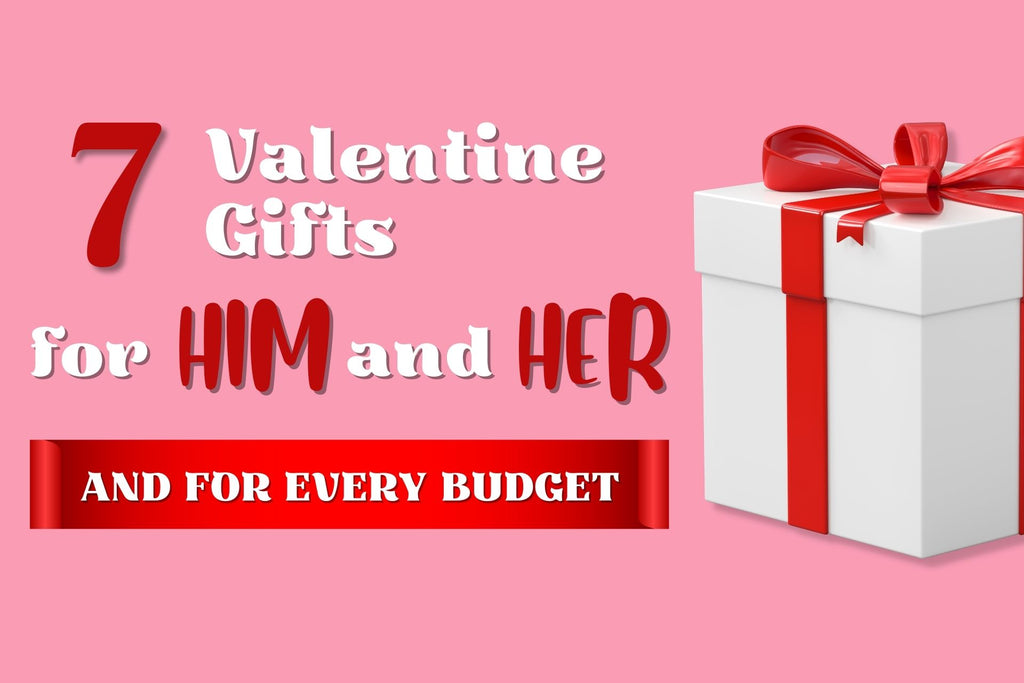 February 14, 2022
Love knows no bounds and this makes Valentine's Day such a special day for everyone in the family. No matter your age, social status, gender and race - this day is for you! Let's celebrate it with the spirit of love and generosity. The best thing about it is you do not have to break the bank just to make this day extra special. If you're looking for something simple, classy, unique and everything in between, we have you covered!
Here are some great Valentine gift ideas that will suit every budget and your loved one's personality.
1. Wine Glass
Budget: $5 - $95
Valentine's Day celebration is often celebrated with popping corks and candle light dinners. Make it extra special this time by having your dinner date at home with your partner's favorite wine served in a stunning champagne glass.  
While there are many things that influence our definition of a good wine, there is no doubt the glass in which it is served also has a significant impact on its taste. So, this Valentine's Day don't just serve wine in your usual wine glass. Make it extra special with this Champagne Flute Glass from Ireland and remember, it's never good to keep things bottled up!  Other options that are just as beautiful for a Valentine gift include:
2. Wine Display Rack 
Budget: $30
A wine display rack is for that special someone who loves to collect wine but no longer has enough space in the kitchen to store them. Encourage him or her to turn that blank wall into a beautiful space for wine displays. For only $30, you will have a wine display rack that you can keep adding to your wall as your wine collection also grows. 
They say that wines are bottled poetry, for they tell wonderful stories of places where they originate. If you find your wine collection growing, why not take those bottles of poetry to the wall? They'll definitely tell a thousand stories to your guests and loved ones. Not to mention that these wines also convey memories of good times, good conversations and satisfied tummies. 
A La Carte's wine display rack is designed with an elegant look so you don't have to worry about trying to make them fit seamlessly into someone's kitchen interior design. Its minimalistic design enables your bottles of wine to stand out, and their labels easier to read. 
Because this Valentine's Day, all you need is love and a bottle of good wine. So, make sure it's stocked on a great wine rack!
3. Scented Candles 
Budget: $18- $25
When you just can't seem to find the words to say how your loved one lights up your life in a very special way, having these scented candles as a gift will help you convey the message.  These scented candles exude more than just floral scents. They also do a great job at elevating the ambience from ordinary to a Cupid-themed atmosphere. This is such an ideal Valentine gift for someone who could use some warm hugs…and warm candles! Here are some of our personal favorites:
4. Jewelry Tree Stand 
Nobody has ever said "I have enough jewelry".
So, this makes a jewelry stand a total necessity and a perfect Valentine gift for your loved one.  A Jewelry tree stand is also perfect for a person whose idea of jewelry organization is the use of Ziploc bags 🤣. This Valentine's Day, surprise your loved one with this jewelry stand that doubles as a room decor. With this jewelry stand, necklaces, rings, watches and earrings can be organized so easily. Your loved one can now easily grab which one suits his or her outfit of the day. 
This three-tier stand will make anyone's vanity desk look really special. Not to mention being totally organized. In addition to its three tiers, it also has a small tray on its base which can hold small objects and keep it in place. The combination of wood and white metal will make it easier for you to complement any space.
5. Blender Spatulas
Budget : $12
Have you started your countdown of the "15 ways to say I love you with cookies"? You'd better start it now but not without a kitchen gadget as a Valentine gift. This gift is for someone who loves everything utilitarian. 
Does your Valentine plan to bake some cookies and cakes to celebrate this special day? This set of blender spatulas will be such a sweet surprise. After all, the best Valentine gift is something that you can use every day. 
These blender spatulas are not only good for getting every bit of food out of the blender, it could also be your very useful kitchen gadget to serve in a variety of kitchen tasks. From whipping up your favorite dishes to spreading jams or peanut butter onto your toast - these spatulas can be so durable and versatile!
6. Book Reading Light  
Budget: $20- $30
If your special someone is a bookworm, then a book reading light would be a perfect gift this Valentine's day. This is also an ideal gift for someone who loves to knit or crochet. Reading, knitting or crocheting can still be done even after all the lights have been turned off. You don't have to worry about disturbing other people's sleep because you can quietly read a book without disturbing loved one beside you can simply get a good night's sleep.  
With 3 types of lights to choose from, you may decide whether you want yellow, warm white or cool light. It is equipped with type-C rechargeable USB and is designed with advanced LED beads so you won't strain your eyes with diminishing brightness like you would experience with other types of reading lamps or lights. 
You can use it hands-free and adjust its arms according to what's most convenient and comfortable for you. 
7. Shooting Paper Targets
Budget: $35
Don't just let Cupid hit your heart with an arrow. 
Let the feeling out with a blast! Check out this Precision Shooting Target that you can use both indoor or outdoor. It's designed to withstand outdoor elements so the two of you can still go out for a shooting Valentine date no matter the weather. 
This gift will definitely surprise that special someone who loves to go shooting at the range. This is also perfect for a Valentine partner who is looking to hone his or her skills in firearm shooting. 
We, at A La Carte Cooking, believe that no amount of "I Love You's" in life can truly express the love that we share with our special someone. But we do hope these Valentine gifts will help this day become one that will be remembered all the days of our lives. 
If you think this post has helped you decide what to give as Valentine gifts for your loved ones, feel free to enter your email so you can be notified when we publish helpful posts like this.